RURAL WATER DISTRICT #3 ROGERS COUNTY, OKLAHOMA
13277 S Ash St
Claremore, Oklahoma 74017
TO: All participating members of Rural Water Dist. #3, Rogers Co., OK FROM: Board of Directors of said Water Dist. #3
NOTICE OF MEETING
TAKE NOTICE that the annual meeting of participating members of Rural Water District #3, Rogers County, Oklahoma, has been called by the undersigned Board of Directors, of said Water District #3, pursuant to Resolution adopted by said Board for the purpose of transacting the business outlined on the following agenda and for the transaction of such other business as may come before said member. This meeting will be conducted via zoom, Tuesday, February 9, 2021 at 6:30 p.m. https://us02web.zoom.us/j/89654865192?pwd=MElUczZoQWJ5RVNhZ1JFSUxpWXdtUT09
RWD #3 ROGERS COUNTY, OKLAHOMA BY: Brant Snap, Chairman
PROPOSED AGENDA FOR MEETING OF R W D #3 ROGERS COUNTY, OKLAHOMA
February 9, 2021
Call Meeting to Order

Proof of notice received
Appointment of Parliamentarian

Reading and Approval of Minutes of Last Annual Meeting
Report of Officers and Committees

OK DEQ/Rogers County Health Dept. Representative
Oklahoma Water Resources Board Representative
District Engineer
District Auditor
District Manager

Question and Answer Period
Election of Two Directors: Qualified Candidates – Owasso & Foyil Area
~Hank Kersey -Foyil area
Would like to continue to serve the community.
~Jason Rhoten – Foyil area
I have enjoyed serving as a Rural Water District #3 Board Member over the past years. It would be an honor to have the opportunity to continue to serve on the Board and continue to help serve the patrons.
Unfinished Business
New Business
Adjournment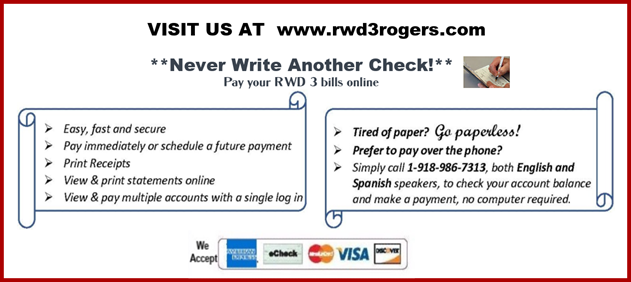 Thank you to everyone who has already signed up for this program.
FROM THE BOARD OF DIRECTORS
Any additional questions??? Please call the office at 918-341-0851