Our Mission
We are committed to providing safe, high quality water, at an affordable price, while maintaining a standard of excellence in customer service and environmental. Learn more...
One Nation Under God...

...with liberty & justice for all!
FREEdom isn't Free!
REMEMBER THOSE WHO GAVE ALL!

***************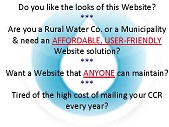 You can have one too!
Rural Water Districts click here to check it out!
Municipalities, click here to check it out!
You will be glad you did!
Bill Payment Options
Looking for the most convenient way to pay your bill? We offer a wide variety of payment options to our customers. You may pay your bill online or simply choose the option that best suits your needs... Learn more...
***************

GO GREEN!
Tired of all that paper
coming in your mail?
Sign up for
paperless billing now!