Our Mission
We are committed to providing safe, high quality water, at an affordable price, while maintaining a standard of excellence in customer service and environmental.
**************
Do you have questions or concerns? We are committed to creating an informative, friendly environment for our customers. Please visit our FAQ page. Is there something that isn't answered on there? We would appreciate any and all feedback.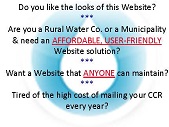 You can have one too!
Rural Water Districts click here to check it out!
Municipalities, click here to check it out!
You will be glad you did!
One Nation Under God...

...with liberty & justice for all!
FREEdom isn't Free!
REMEMBER THOSE WHO GAVE ALL!

**************
Tired of all that paper in the mail?

*************************
Looking for the most convenient way to pay your bill? We offer a wide variety of payment options to our customers. You may pay your bill online or simply choose the option that best suits your needs... Learn more...
Bill Payment Options
Do Not Use DOXO to Pay Your Rural Water District 3 Rogers Co. Bill
Recently some customers reported being directed to a website called DOXO to pay their bill online. We would like to state that RWD 3 Rogers County is in no way affilliated with this service. The payment option for online payment is secured through our website here. If you have questions or are unsure please call the office at 918-341-0851.
***********************************************
We are excited to announce our new payment and e-bill provider is Retail Lockbox!

**Please delete any favorites or bookmarks you have saved to access PSN payment site for RWD 3 Rogers County. PLEASE use our payment links provided for you here, on our website until you can delete any and all saved PSN bookmarks. You may now save the new payment provider's site in your bookmarks/favorites.
All the links on our website will automatically take you to the new provider's site.
**You will have to re-register on the new Retail Lockbox site.